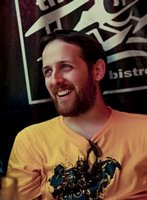 I'm Keith O'Conor, coder and CTO of Romero Games, working with a small team of awesome game developers led by Brenda and John Romero. I was previously a 3D Technical Lead at Ubisoft Montreal on titles such as Far Cry Primal, Far Cry 4 and Watch_Dogs. Before that, I cut my teeth at the late Radical Entertainment in Vancouver as a rendering programmer.
I'm a proud Irishman, born and bred in Dublin, and have a PhD from Trinity College Dublin where I was part of the ISG graphics group researching the use of parallel hardware for accelerating graphics algorithms.
I'm interested in many gamedev topics: graphics, engine design, multithreading, hardware architecture, optimization, workflows and more.
I love everything about real-time game tech, but for years I've also had a particular fascination with virtual reality, ever since I hacked together my first VR interface in college with a V6 HMD, 5DT dataglove and Polhemus magnetic tracker. The resolution was low, the accuracy was terrible and the latency was awful, but it gave me a glimpse of huge potential for the future.